Plug into the fun and grow in the Power of Jesus in your life, allowing God to give you power to grow in your faith in Jesus so you can share the love of Jesus with your family and community. You will learn through interactive activities like object lessons, praise and worship, skits, prayer, and fun and games.
Birth to 2 years old are lovingly cared for in a safe environment by trained and certified childcare workers.

9:30 & 11AM SERVICE
Check-in is located in building 1 in the individual classrooms
Preschoolers love Lil'K and learning to be God's Kid through interactive lessons, games, crafts, and music. Come join the fun with learning.

9:30 & 11AM SERVICE
Check-in is located in building 2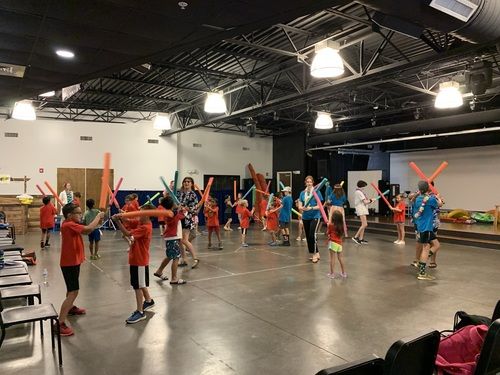 Never a dull moment as you learn about connecting to God so you can receive His power. Each week experience worship through music, fun object lessons (can be messy), prayer, skits, and games. Earn "Mega Watts" by incorporating God into your daily life, to spend in the POWER UP Store.

9:30 & 11AM SERVICE
Check-in is located in building 3
There are students in our surrounding schools that face hunger once the school day ends and on the weekends. Our HeartFelt ministry collects food donations, and we distribute food and gift cards to assure these students do not go hungry.
Please click
here
for a donation list.
For questions, please send an email to heartfelt@stjamestampa.org.
9:30 & 11:00

Infants/Toddlers are signed into their classrooms by a parent/guardian and signed out by the same parent/guardian. Cell phone number(s) are listed in case of an emergency.
Upon checking in (4 yrs. – 4th grade) you will get two tags:
Your child's Name Tag to be worn during service.
Your Parent Tag for you to wear and/or hang on to.
After the service, you will return to your child's room and show your Parent Tag in order for your child to be released back to you. If you lose your Parent Tag, please be prepared to show government-issued ID in order to pick up your child. In the event that we need to contact you during the service, we will text your cell phone number, please be sure to keep it on vibrate. We ask that you exit the Sanctuary immediately and look for and proceed to your child's room.
POWER UP KIDS SPECIAL EVENTS
In addition to weekend programming, St James UMC offers special events throughout the year such as a week-long VBS, 4-5th grade leadership weekend, Power Up Outreach opportunities, 5th Grade Farewell Bash and a lot more
COVID SAFETY
Please note, with the ever-changing public health climate due to the rise in COVID cases and Delta variant, St. James has adopted a mask policy that is in alignment with the CDC and the United Methodist Conference. We urge everyone, regardless of vaccination status, to wear masks while indoors as an expression of love for our neighbors & fulfillment of the Law of Christ (Galatians 5:14).